Company Profile
Assam Electricity Grid Corporation Limited, a vibrant growth oriented Public Sector Company registered under 'Company Act, 1956'. It was formed out of restructured Assam State Electricity Board in 2003 and was notified as the State Transmission Utility (STU). Its core business is to efficiently transport electrical power from electrical power bulk heads to the distribution company networks in the state of Assam. Assam Electricity Grid Corporation Limited inherited 3862 circuit kms of EHV lines above 66 kV voltage class and 38 numbers of EHV sub-stations having a total transformation capacity of 1636.50 MVA at its birth in 2003.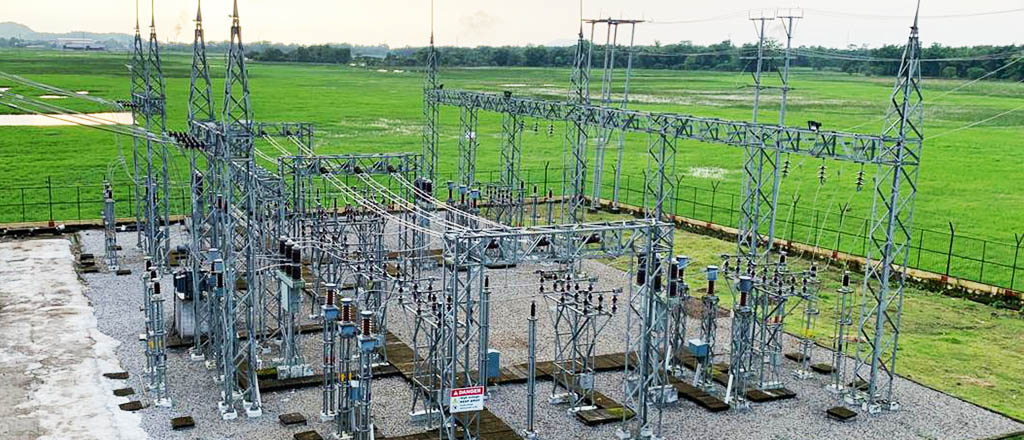 After 2003 with the inclusion of new sub stations and transmission lines its transmission capacity is increased upto 7583 MVA , line length 5784 Ckt kilometer and no. of substation 71 nos, which includes 1 no. 400KV, 12 nos. of 220KV, 58 nos of 132KV substations as on June 2022.
Assam Electricity Grid Corporation Limited is playing a strategic role as it is the largest 'STU' in the NE region. It also understands its responsibility towards the entire North East India and is always extending a helping hand by way of transporting a fair share of power to the other sister states of the region.
Assam Electricity Grid Corporation Limited has consistently maintained the transmission system availability over 99% which is at par with other National Transmission Utilities.
Assam Electricity Grid Corporation Limited vows to ever strive till all transmission bottlenecks get eradicated. It pledges to deliver unrelenting brilliance in performance, deliver power efficiently but economically, show high safety standards, and is committed to respecting environmental and heritage issues.